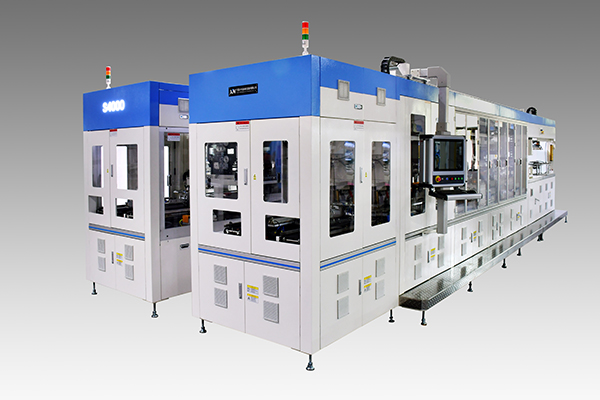 1. Design the action process of ribbon and cell placing with the concept of full cell soldering, "treat the pieces as a whole piece for soldering", to achieve super high speed.
2. Each soldering channel is dual-channel , which reduces the preparation time for ribbon placing and modules preparing
3. The soldering process operates seprately at the same time, which improves the speed and guarantees the soldering quality.
4. The top press tool and bottom module clamp the cell and ribbon, and the soldering process is stable, accurate and reliable.
5. Strong compatibility (cell size: 156-220mm, cutting range: 1/2-1/6, bsusbar range: 5BB-15BB)
6. Equipped with a docking AGV trolley interface, which can automatically load materials.
7.Online or offline non-destructive cutting, Improved mechanical load strength.
8. Standard AI string EL detection.

9. With small gap or gapless soldering function
| | |
| --- | --- |
| Item | Parameter |
| Production capacity | 3600 full piece equivalently/hour* cutting piece amount (1/2~1/3 piece) |
| Soldering method | Infrared welding |
| Flux coating method | ribbon soaking |
| Slicing method | Non-destructive cutting |
| Cell size | 156*156~220*220mm |
| Number of busbars | 5BB~15BB |
| Cell thickness | 150~200μm |
| Cell spacing | -1~3mm |
| Maximumstring length | 2300mm |
| Ribbon specifications | Flat and round (others can be customized) |
| Slicing method | online slicing, 1/2~1/3 cell (1/4~1/6 cell need to be customized) |
| Floor space | L 9185*W2986*H 2997 (mm) |
| Power supply | Three-phase five-wire 380/220V 50/60Hz |
| Power | average about 45KW/peak 75KW |
| Air source | pressure 0.5-0.8MPa   flow 2.0m³/min |