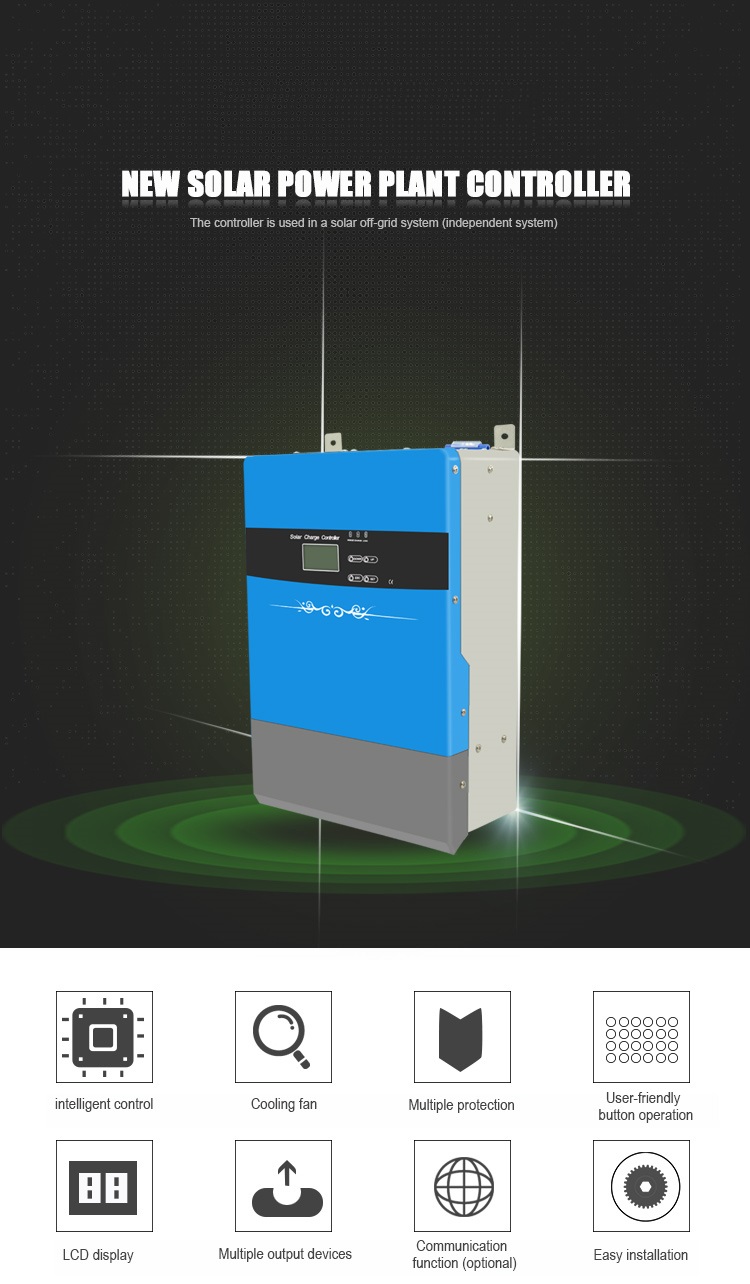 1. Microcomputer chip ensures accurate control
2. Perfect protections: over charge, over-discharge, reverse connection, PV cell panel reverse connection protection
3. Automatic brake and manual brake ensures that the wind turbine and the PV & wind hybrid charging controller operate safely and reliably
4. Voltage for automatic brake (rectified voltage of solar panel) and the recovery time after automatic brake can be adjusted in accordance with customer's demands
5. High efficiency, soft braking, independent input circuits for wind turbine and the PV. As a result, if there is something wrong with one circuit,the other circuit can operate smoothly to provide stable power supply for load.
6. Common cathode circuit design makes the system more stable and reliable.
Good performance:
1.Excellent thermal design and air cooling control.
2.High efficient PWM charging ways.
3.Variety of load control method, enhanced the flexibility of the system
4.Battery charging parameters can be set up.
5.Any combination of photovoltaic module and storage battery reverse automatic protection function, no damage to any device.
6.Adopt traditional LCD display and keyboard design, convenient to view the running parameters of the
controller.
7.Provide industrial generic RS232 communication interface, the user can design PC communication
software, also can buy the company developed the upper machine communication accessories.
Electrical parameter:
Electrical parameter

Parameter

rated system voltage

DC

240V

DC

220V

DC

216V

DC

192V

DC

120V

DC

110V

DC

96V

DC

48V

DC

24V

Rated charge current

100A

100A

100A

100A

100A

100A

100A

100A

100A

The maximum allowable voltage

DC

320V

DC

293V

DC

288V

DC

256V

DC

160V

DC

147V

DC

128V

DC

64V

DC

32V

Max input voltage

DC

450V

DC

430V

DC

430V

DC

400V

DC

250V

DC

230V

DC

200V

DC

100V

DC

50V

Min input voltage

DC

300V

DC

275V

DC

270V

DC

240V

DC

150V

DC

138V

DC

120V

DC

60V

DC

30V

Max input power

24000W

22000W




21600W




19200W

12000W

11000W

9600W

4800W

2400W

Static loss

<0.2A

Charge loop drop

≤0.5V

Discharge circuit of pressure drop

≤0.3V
Battery voltage parameters(Temperature:25℃)
Controls parameter

Over voltage switching off

320V

294V

288V

256V

160V

147V

128V

64V

32V

limited charge voltage

300V

275V

270V

240V

150V

138V

120V

60V

30V

Over voltage Recover

294V

270V

265V

235V

147V

135V

118V

59V

29.5V

Average voltage

290V

266V

261V

232V

145V

133V

116V

58V

29V

Boost voltage

276V

253V

248V

221V

138V

127V

110V

55.2V

27.6V

Float voltage

250V

229V

225V

200V

125V

115V

100V

50V

25V

undervoltage recovery

216V

198V

194V

173V

108V

99V

87V

43.2V

21.8V

Under voltage disconnect

——

Duration of equilibrium

2 hours
Note: The Battery voltage parameters can be set up on behalf of this keypad and LCD Settings, all parameters can be set through the communications software
Environmental parameter:

| | |
| --- | --- |
| Environmental parameter | parameter |
| Work temperature | -35℃- +55℃ |
| Store Temperature | -35℃- +80℃ |
| Temperature Range | 10%-90%No condensation |
| Protection level | IP30 |
| Using altitude | ≤3000m |