Product Feature:
➢ The solar controller uses high performance 32-bit chips which is excellent EMC design
➢ The controller adopts advanced PID algorithm which has more accurate battery energy management system to improve the battery efficiency 45% at least
➢ The controller adopts three charging stages (buck charging, equalize charging and float charging) which can maximize the utilization of photovoltaic modules and batteries
➢ IGBT Modular design ensure stable and efficiency performance of solar controller and solar power system
➢ The controller has perfect battery protection function and with multi-stage charging technology to improve battery life 35% at least
➢ The controller has double loop control function of voltage loop and current loop, user can set the limiting charging current
➢ Fully enclosed duct design and high-speed fan for cooling makes the controller working under harsh environments
➢ The controller has power generation statistics and real-time power curve function, so we can know power generating information at any time
➢ Colorful LCD display, touching key and multi-language option makes the HMC (Human Machine communication) easy and convenient. Users also can set working parameters through the LCD panel and touching keys according to different battery feature
➢ The controller also has temperature compensation function and RTC real time clock function,
➢ Standard Modbus protocol for RS-485 or GPRS communication to extend the communication distance (optional function)
➢ The patent of second protection function which can protect battery from over charging due to power switch failure (optional function)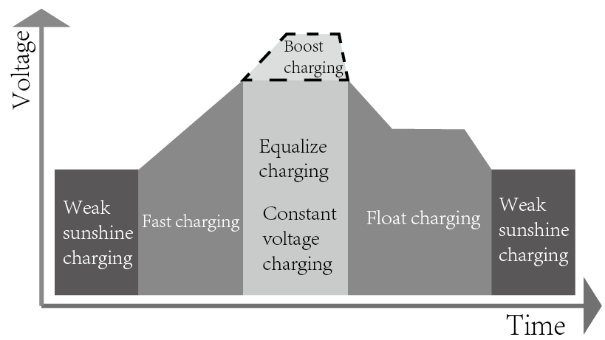 High efficiency PWM charging technology which has three charging stages (Buck charging, equalize charging and float charging), and improves battery storage efficiency and charging efficiency.
Advanced battery activation technology which increases battery lifetime 30% at least and improves the system performance.